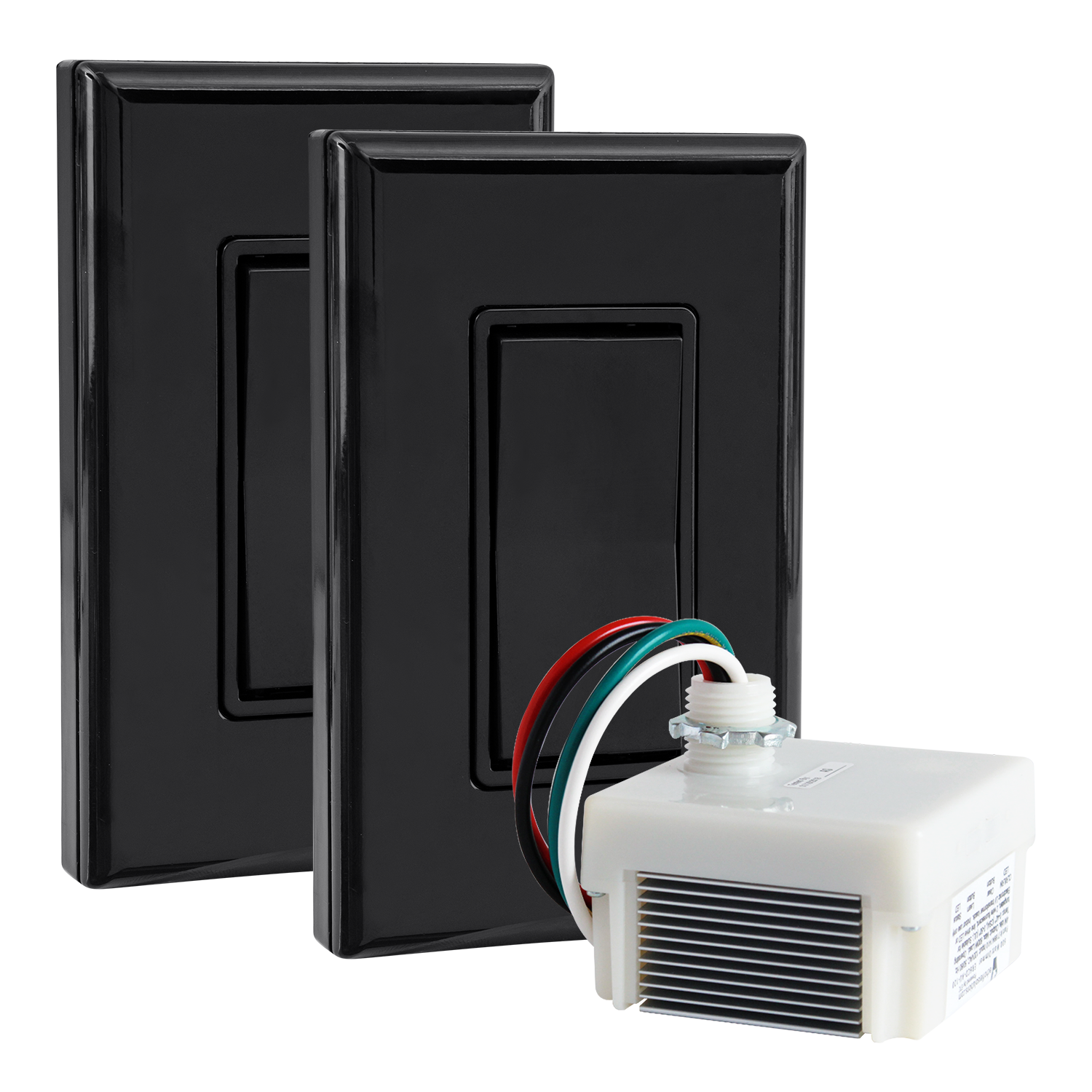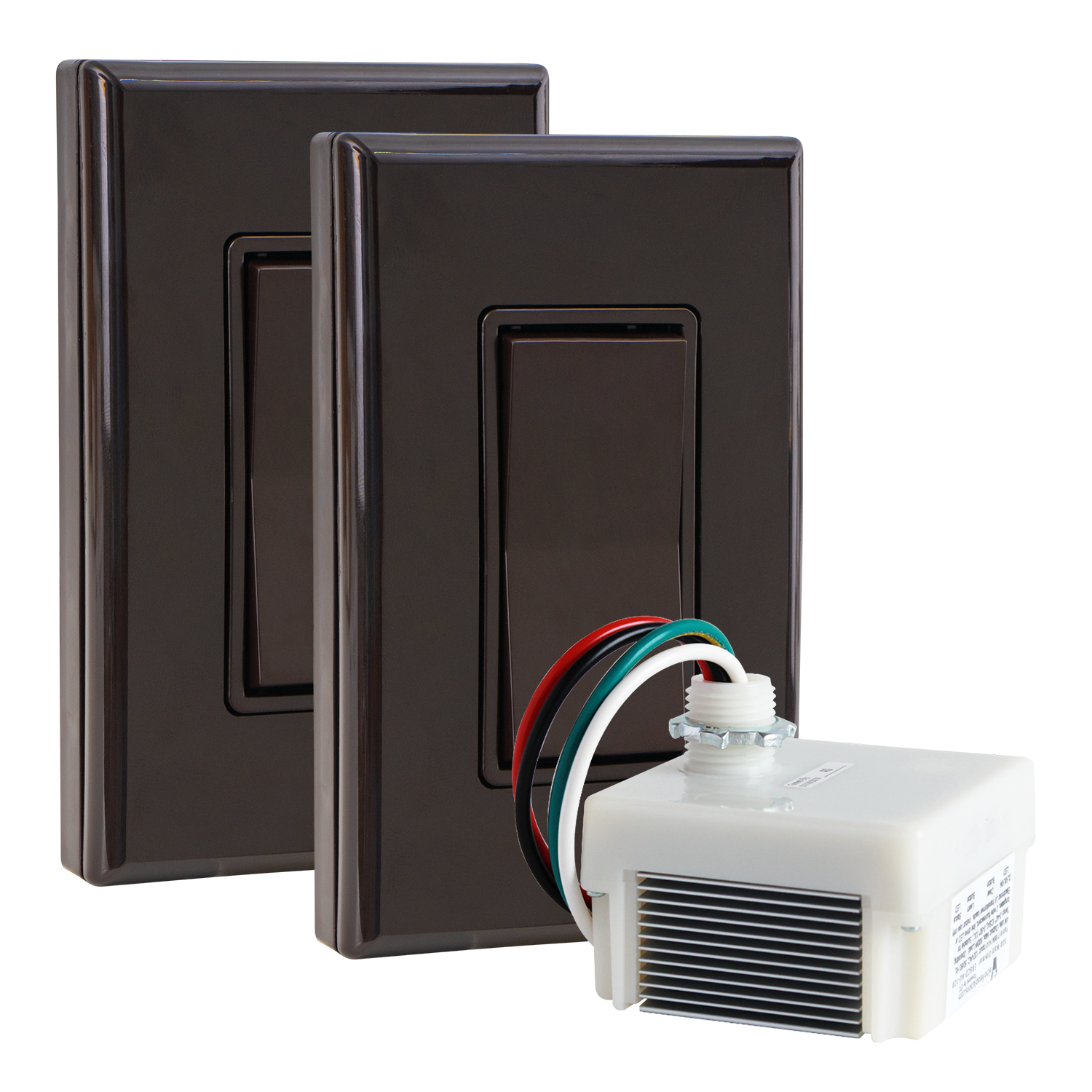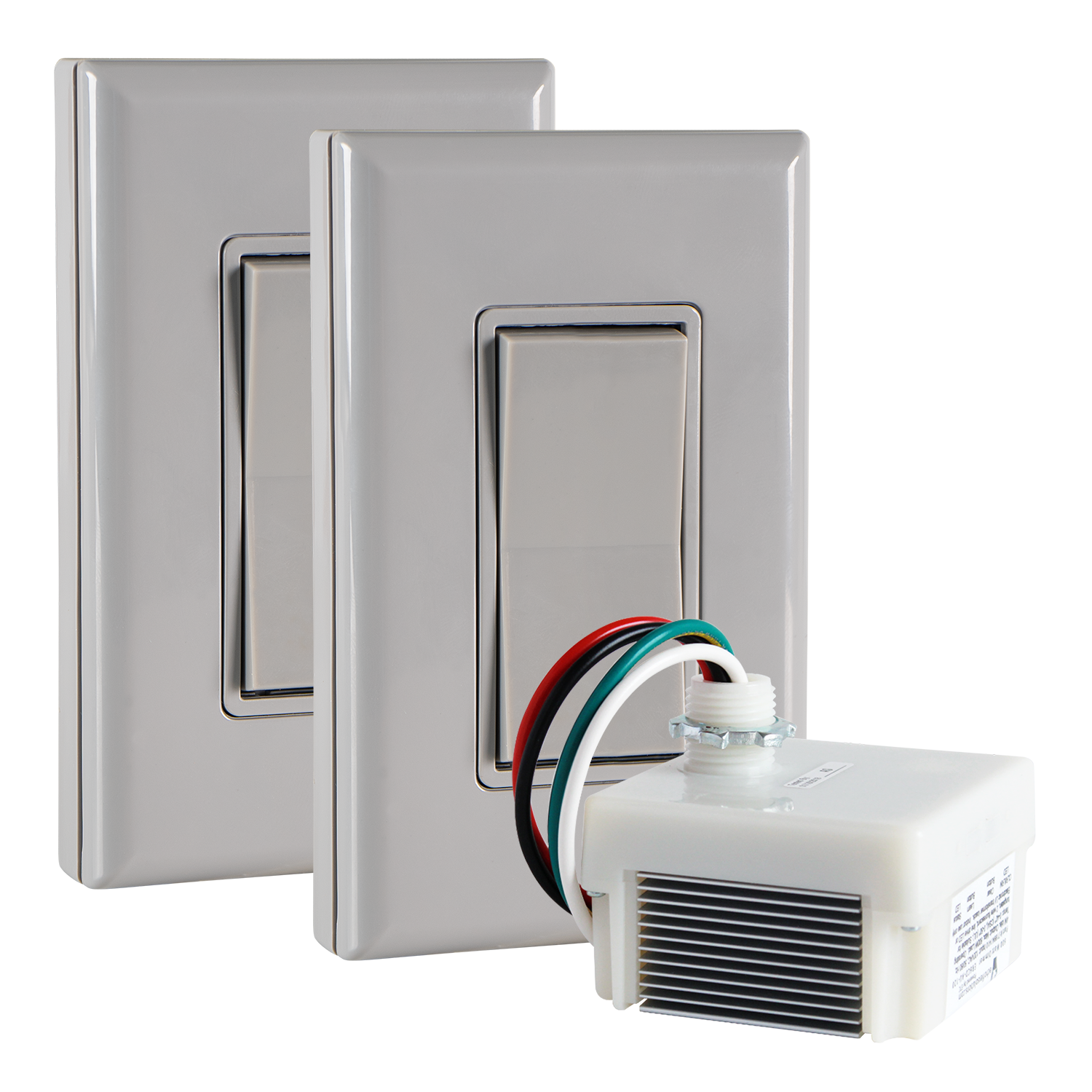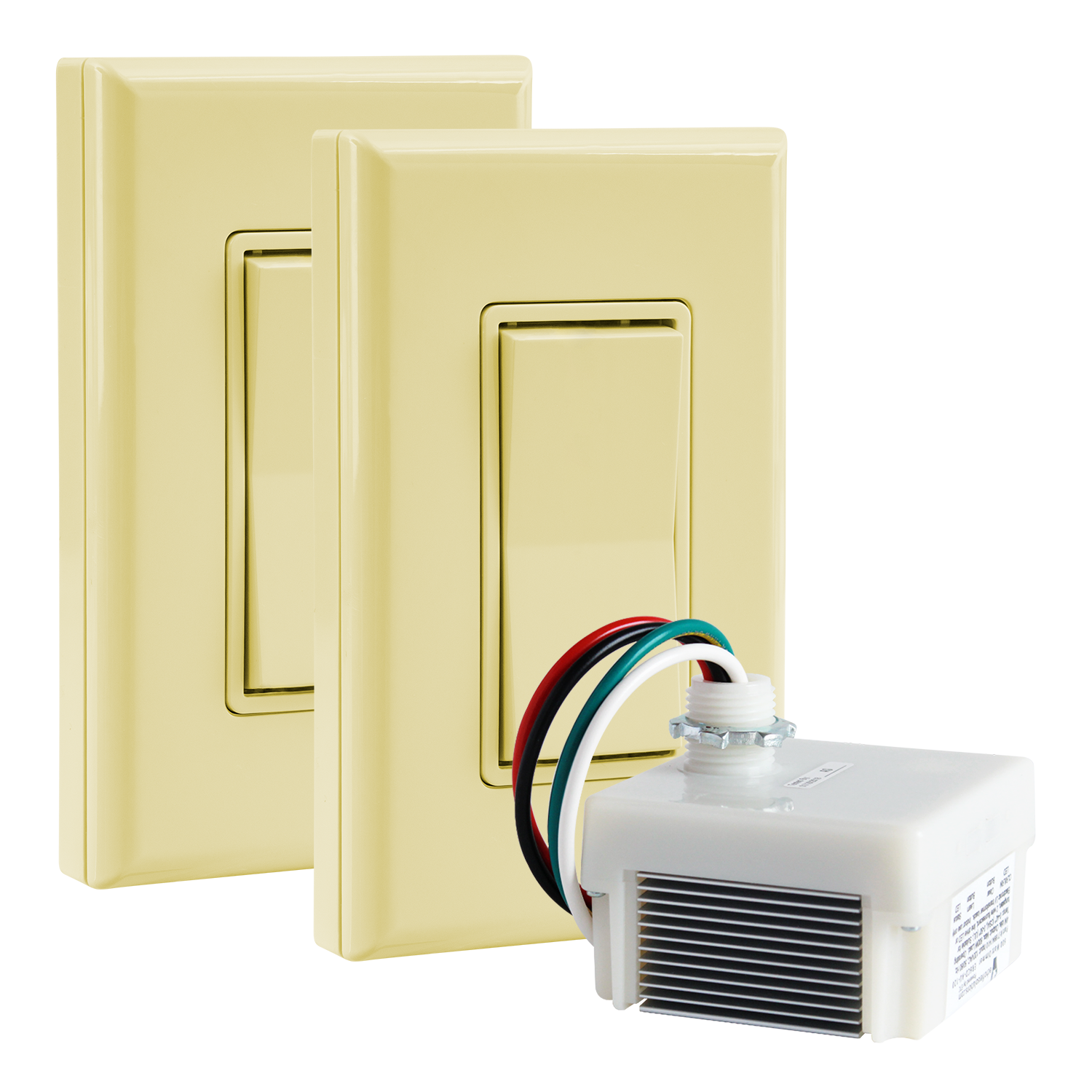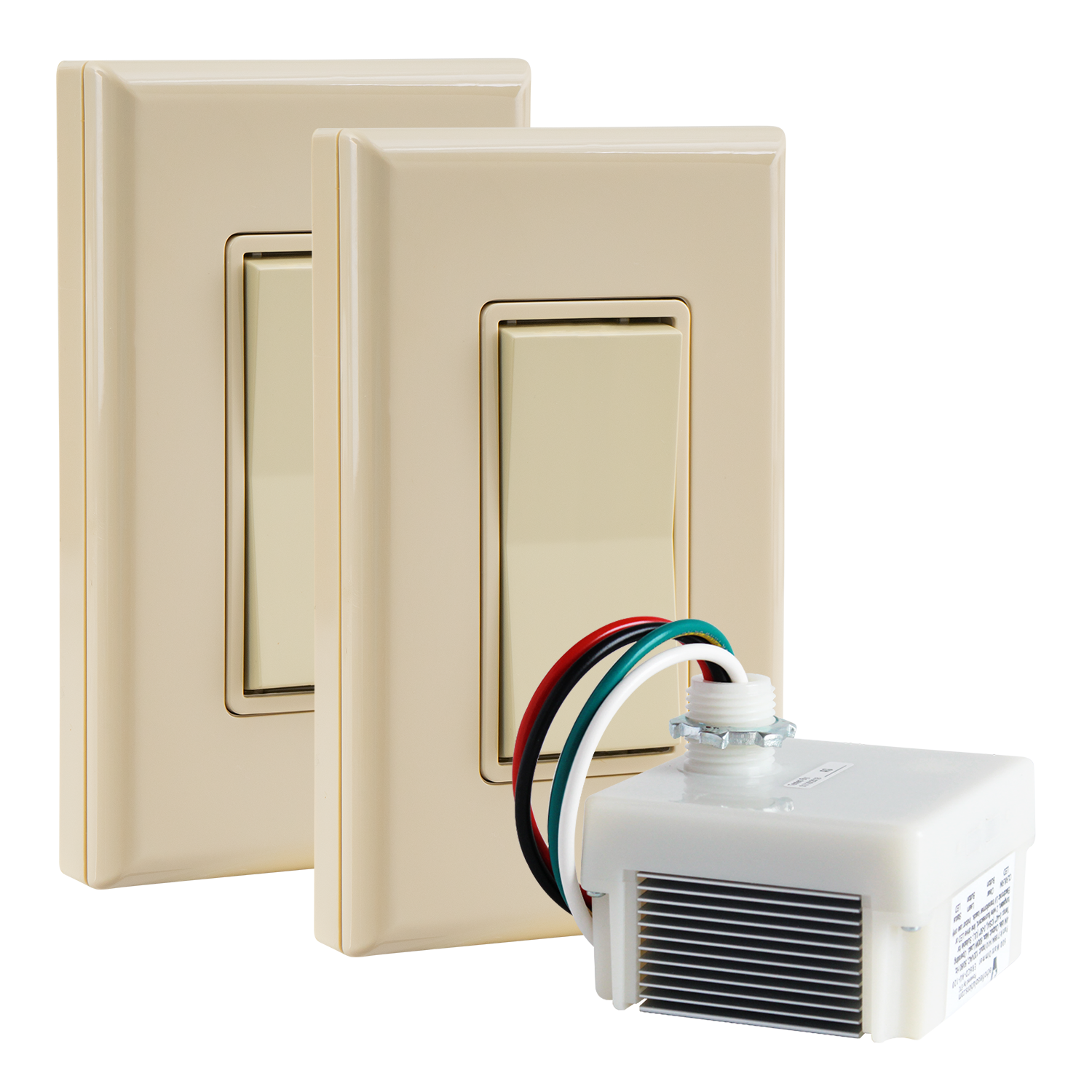 3-WAY DIMMER KIT: 1 DIMMING RECEIVER, 2 SWITCHES
This 120VAC 3-Way Dimming Kit includes two Single Rocker Self-Powered, Battery-Free Wireless Switch and one 600W Phase Cut Dimmer. Use to relocate a switch to a new location, add a wall switch to a pull-chain light, or use anywhere else you may need to add a switch. This Kit is intended for indoor use; a receiver or switch installed on an outdoor light will need protection from the elements.
RANGE – This 120VAC 3-Way Dimming Kit has a range of 50-150 ft, depending on walls and barriers in the way. Before installing, we recommend testing the distance of the switch.

DIMENSIONS: 3.5 x 3.1 x 1.9 inches (89 x 78 x 47 mm)
ADDITIONAL INFORMATION
The 600W Phase Dimming Receiver included in this kit is a phase adaptive line voltage lighting controller that automatically provides reverse or forward phase dimming based on the connected load type. The dimmer makes upgrading to a hybrid lighting system easy, by offering phase-adaptive, line voltage dimming for tungsten, two-wire fluorescent, line-voltage LED, and electronic low-voltage transformer loads (120V only).
Each kit comes with everything you need. The receivers and switches are pre-connected for each kit. Also includes mounting screws, wire nuts, and command strips.
If you are not 100% satisfied with your purchase, you can return the product and get a full refund or exchange the product for another one, be it similar or not. You can return a product for up to 30 days from the date you purchased it. Any product you return must be in the same condition you received it and in the original packaging.
This product is warranted against defects in materials and manufacturing under normal use in accordance with instructions and specifications published by RunLessWire, for a period of five (5) years from the date of purchase by the End User. In the event of a product failure due to materials or workmanship, RunLessWire will repair or replace the defective product. For warranty service, contact RunLessWire for a Return Authorization and return the defective product, shipping prepaid, for prompt repair or replacement.
RunLessWire ships Monday through Friday excluding holidays. The shipping cut-off time is 2pm MST. Orders placed after 2pm MST will be processed the next business day. Shipping is via USPS First class or Priority mail depending on the quantity. Typical delivery times are 3-5 business days from date of order. Shipping price and delivery time will vary on international orders.
Power Supply - 120 VAC or 277 VAC @ 50/60Hz

Power Consumption - Min. 1 W load – Max. 600 W load

Tungsten
2-wire Fluorescent
Line voltage LED
Electric low voltage transformer (120V only)

RF Communications - EnOcean® Protocol 902 MHz

EEP (EnOcean Equipment Profile) - F6-02-02 (Light and Blinds Control - US/Canada application). A5-06-02 (Light Sensor [range 0 - 1024 lux ]).A5-07-01 (Occupancy Sensor). A5-38-08 (Central command, switching, dimming and set point)

Transmission Range - 50-150 feet (typical)

Operational Temperature - CSA: 32ºF to 104ºF (0ºC to 40ºC). UL: 32ºF to 122ºF (0ºC to 50º C)

Relative Humidity - 5% to 95% RH (non-condensing)

Dimensions - 3.5 x 3.1 x 1.9 inches (89 x 78 x 47 mm)

Agency Compliance - ETL, UL, FCC, & IC compliant
Reverse or forward phase single-channel 600 Watt dimming
Integrated daylight harvesting control with Photo Inhibit feature
Easy installation on electrical junction boxes with 1/2 " mounting nipple
Doubles as a telegram repeater
Phase adaptive dimming. Provides reverse or forward dimming based on connected load type.
Central Command support.
Interoperable. Communicates wirelessly with other devices using the EnOcean wireless standard.
Range — 50-150 feet (typical)
Frequency — 902 MHz EnOcean® Protocol
Power Supply — Self-generated when switch is pressed
Buttons — 2 Buttons (1 rocker)
Output Channels — Only limited by number of receivers in range
Dimensions — 2.75(W) x 4.5(H) x 0.62(D) inches
Operating Temperature — -13° to +149°F (- 25° to + 65°C)
Radio Certifications — FCC (United States): SZV-PTM200C 210C or 210U I.C. (Canada): 5713A-PTM200C 210C or 210U
Addressing — Factory set unique ID (1 of 4 billion)
TECHNICAL DETAILS
Indoors Only: Switches and receiver are not weatherproof and should be used indoors; a receiver or switch installed on an outdoor light will need protection from the elements.
Pre-linked: Switches and receiver are shipped to you already linked together for a quicker installation. 
Range: The range of switch is 50-150 feet from the receiver, depending on walls and barriers. Test desired distances before completing installation.
Interference: Multiple units may be used in the same home without interference. Unique radio frequency won't interfere with other devices.
Power Supply: Receiver requires AC input. Switches are self-powered and require no power supply.
Install with Ease: Our small dimming receiver is simply wired between the power and the fixture, and then stored in the light box behind. Mount the switch anywhere with industrial tape or screws.  Also used to replace outdated, undesired current switches.
Installation & Tutorials
This product has no reviews yet.