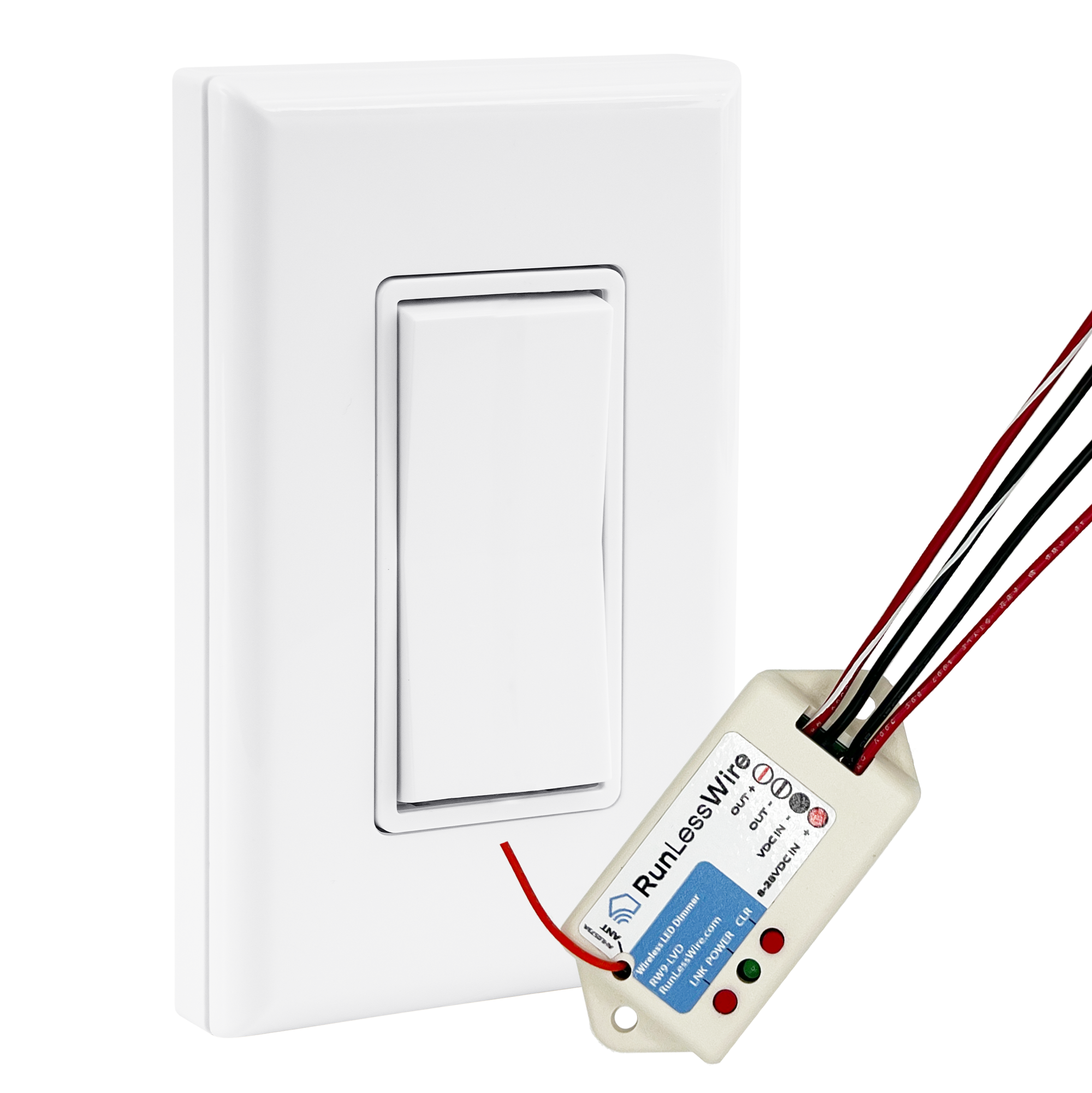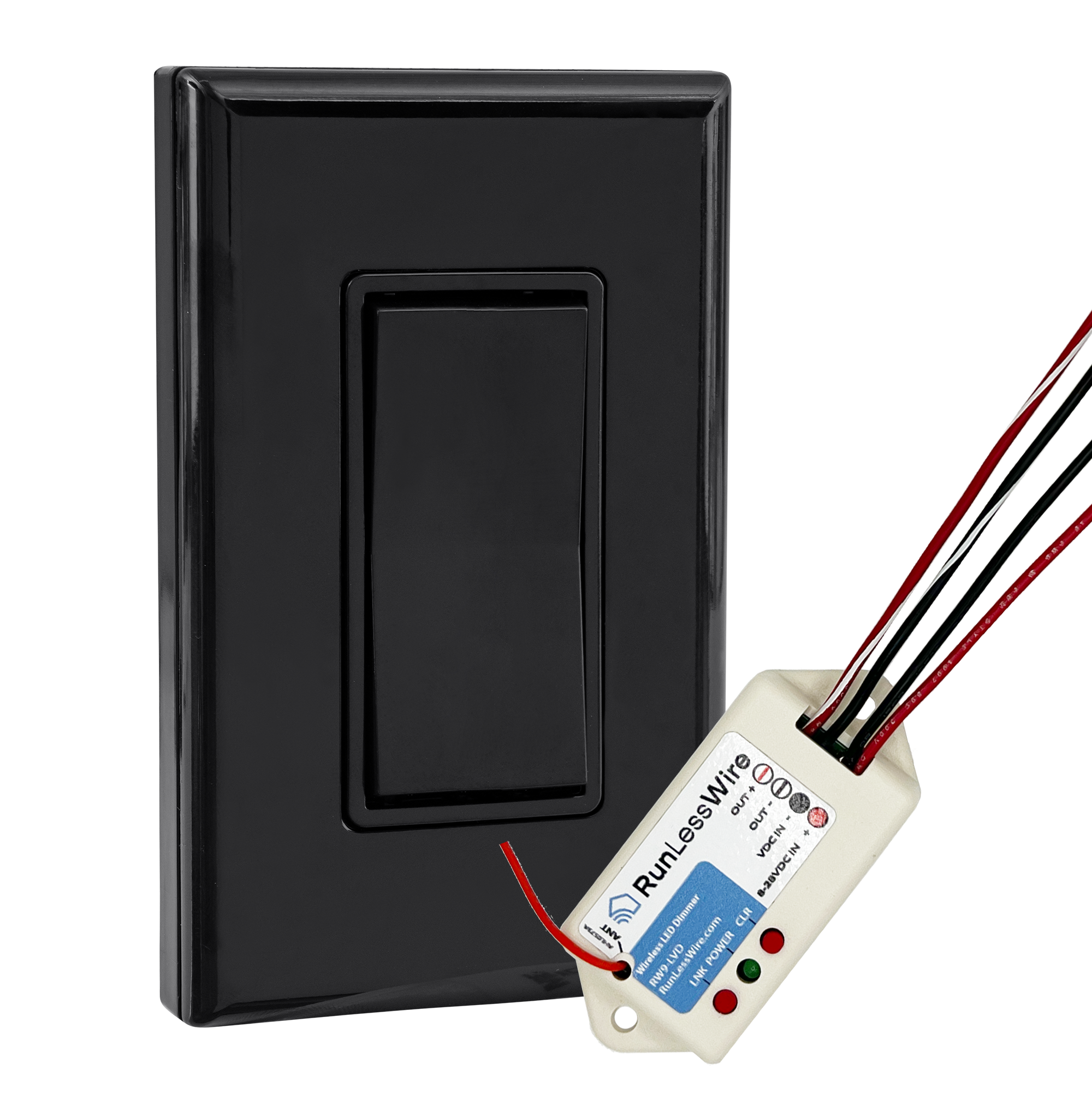 LED Dimmer Basic Kit
Add a dimming light switch in any location!
The Constant Voltage PWM Dimming Controller delivers 65,000 PWM dimming steps for ultra-smooth dimming performance through all light levels. These tiny dimmers are 1/2 to 1/4 the size of other LED dimmers and overcome a major challenge faced by traditional LED dimmers—we eliminate choppiness at low dim levels. Through the use of thousands of PWM dimming steps, the dimming controller creates what is perceived by the natural eye as a single continuous dim, even at low light levels.
Wireless connectivity

Self-powered, battery-free

Replace an existing switch or "install" a new one

Mount with industrial tape or screws
Using dimming controls with LED lights reduces energy consumption!
Includes: 1 Single Rocker Wireless Switch, 1 Constant Voltage PWM Dimming Receiver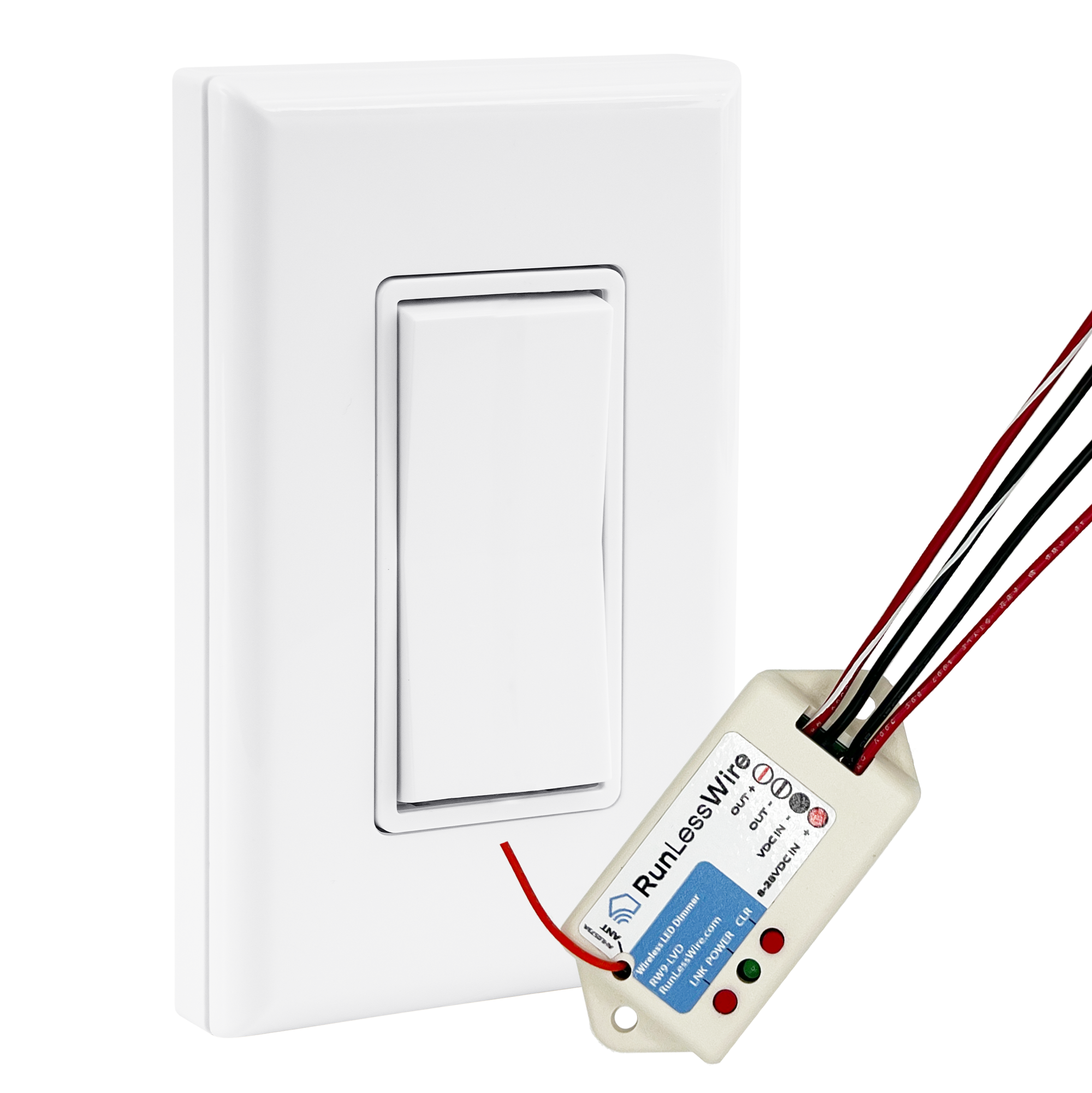 Questions & Answers
The LED Smooth Dimmer Receiver will turn on, dim, and completely turn on up to 5 amps of lighting. Ideal for 12-24 V LED Can Lighting and Flat Panel Lighting. Use at home or for business renovation projects and on DIY designer lighting projects.
Do I need special dimming lights to use the dimming features or can I put this on any type of light?

Yes. This product requires LED bulbs that are rated for constant low voltage 0-28VDC 5A max and will not work with traditional 120V line voltage lighting.
The switch is described as "self-powered". What does that mean?

The switch is powered by the kinetic energy created when the switch is pressed.  Once the RF module inside the switch is energized, it sends a unique radio signal to the dimming receiver.
Is this switch UL certified?

Yes. Though this particular product is low voltage and does not require this type of certification, all RunLessWire products are certified to UL safety standards by the ETL organization.
TECHNICAL DETAILS
Indoors Only: Switches and receiver are not weatherproof and should be used indoors; a receiver or switch installed on an outdoor light will need protection from the elements.
Pre-linked: Switches and receiver are shipped to you already linked together for a quicker installation. 
Range: The range of switch is 50-150 feet from the receiver, depending on walls and barriers. Test desired distances before completing installation.
Interference: Multiple units may be used in the same home without interference. Unique radio frequency won't interfere with other devices.
Power Supply: Receiver requires AC input. Switches are self-powered and require no power supply.
Install with Ease: Our small dimming receiver is simply wired between the power and the fixture, and then stored in the light box behind. Mount the switch anywhere with industrial tape or screws.  Also used to replace outdated, undesired current switches.
Installation & Tutorials
This product has no reviews yet.