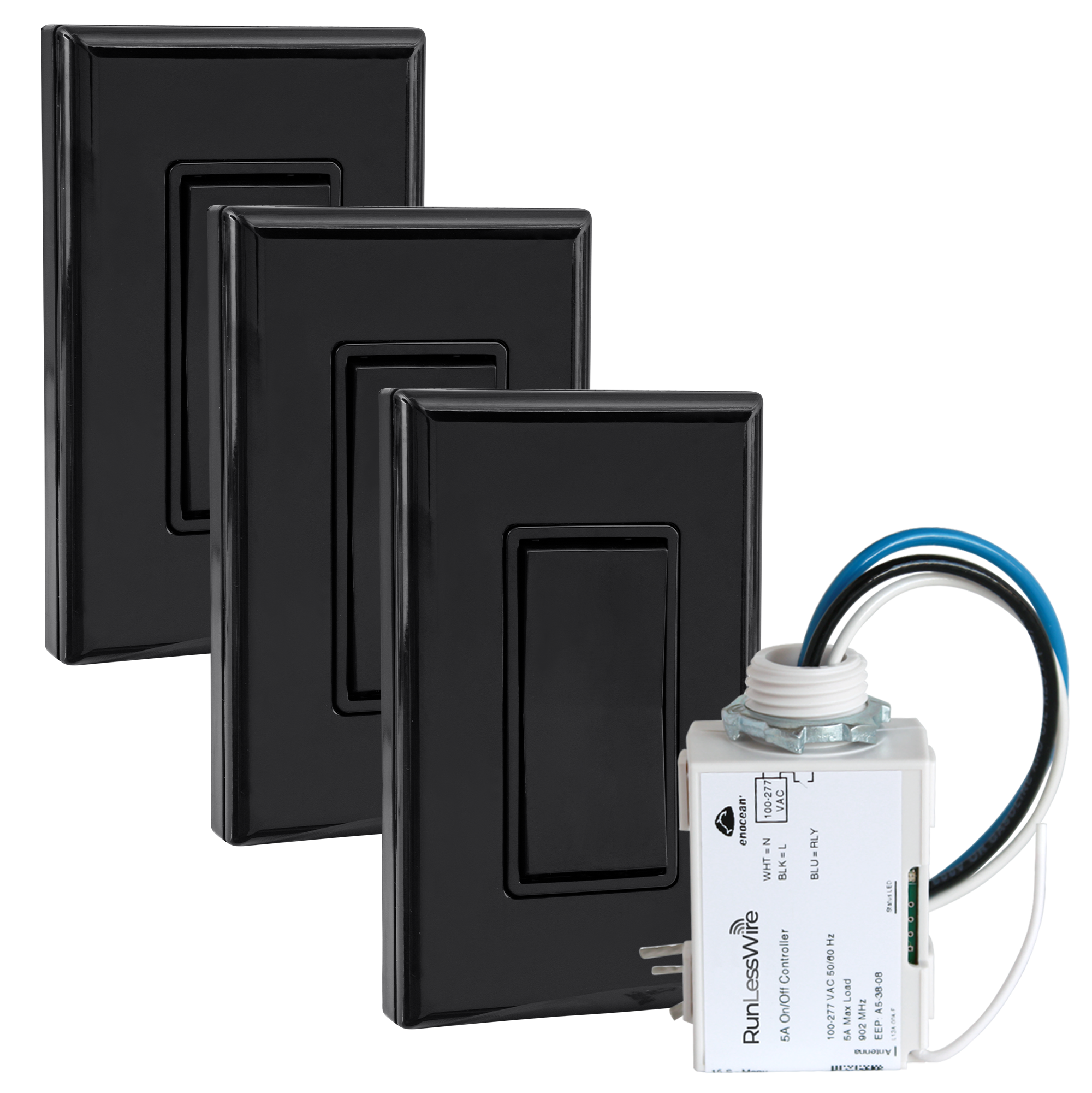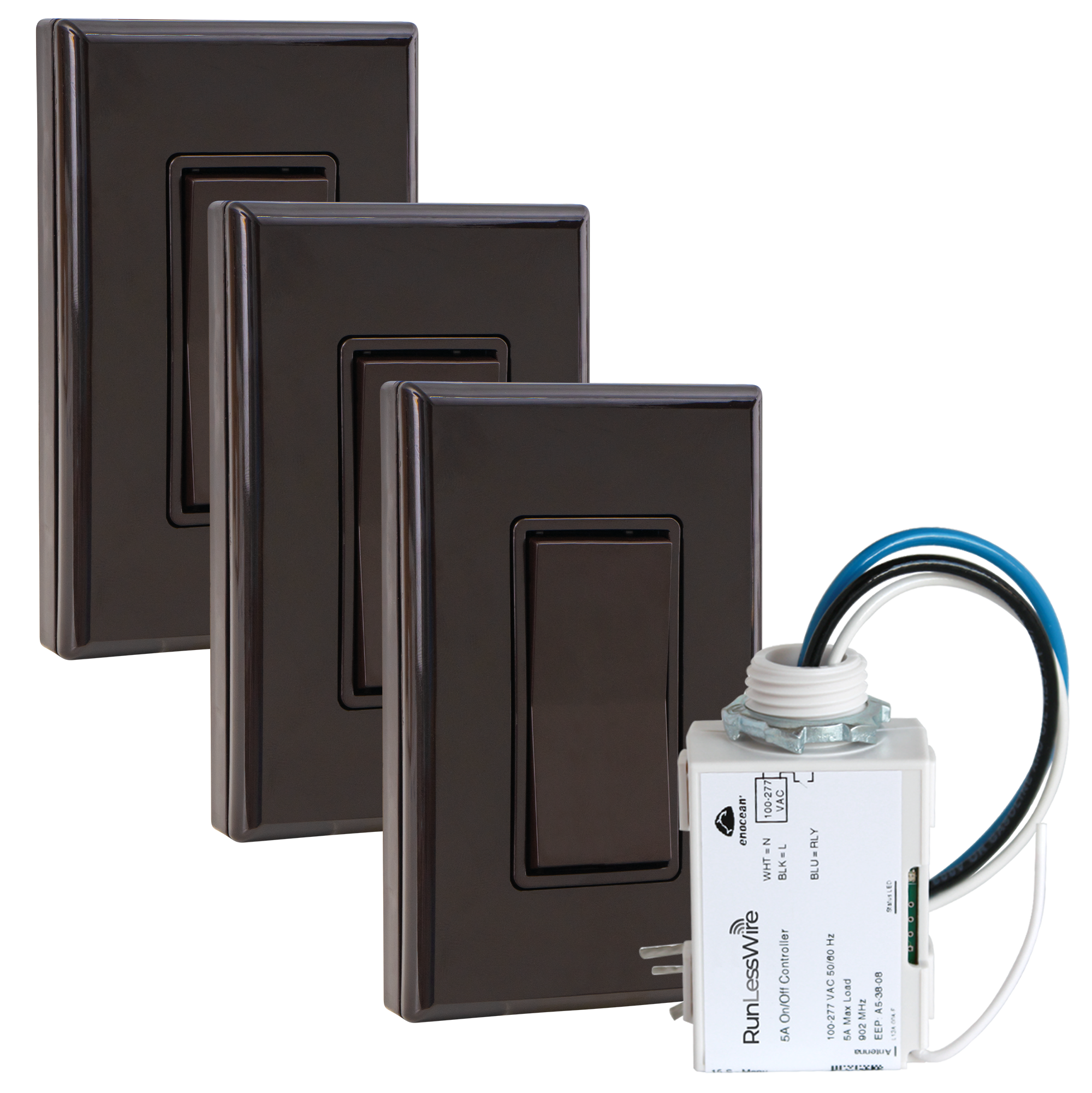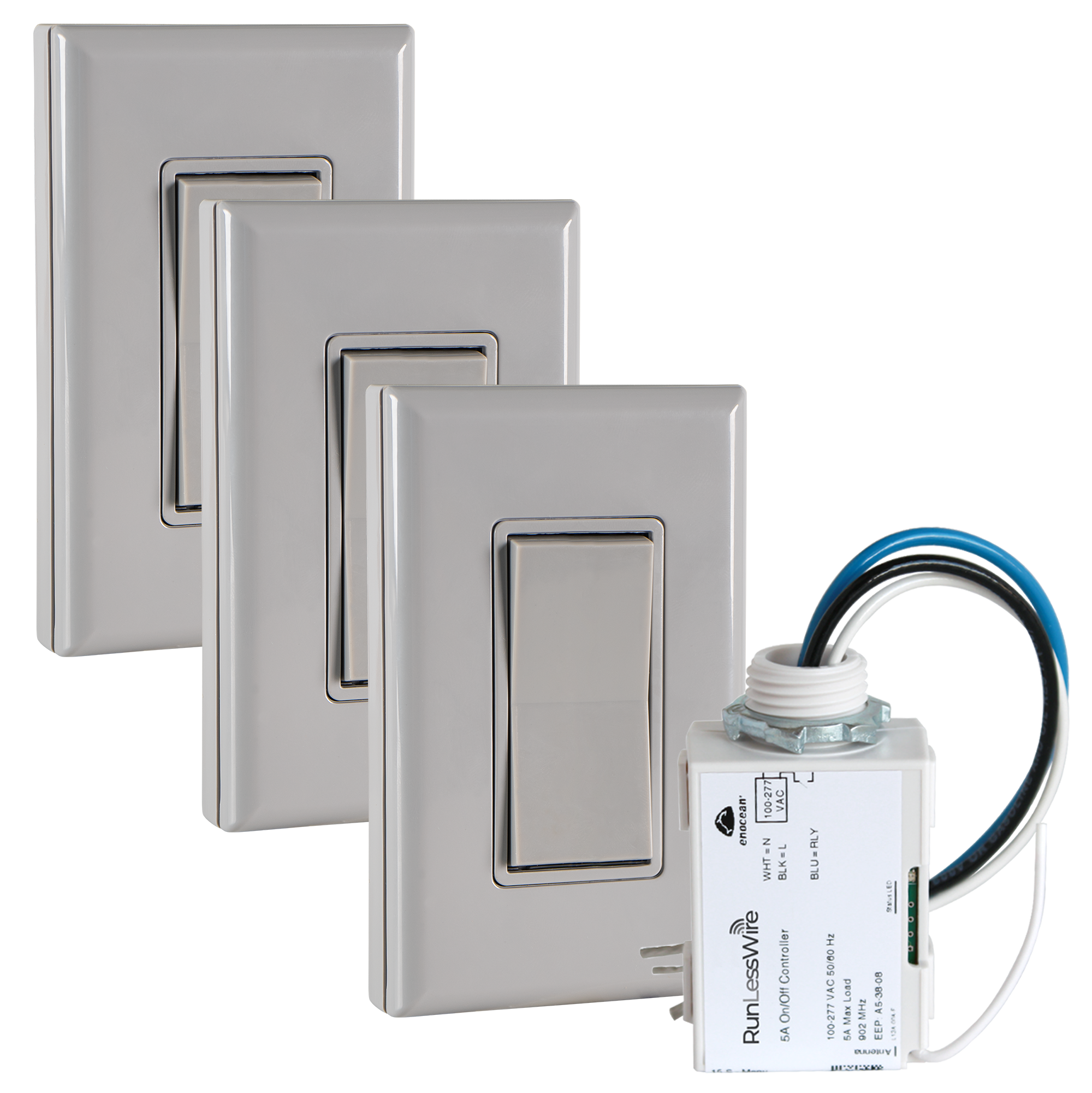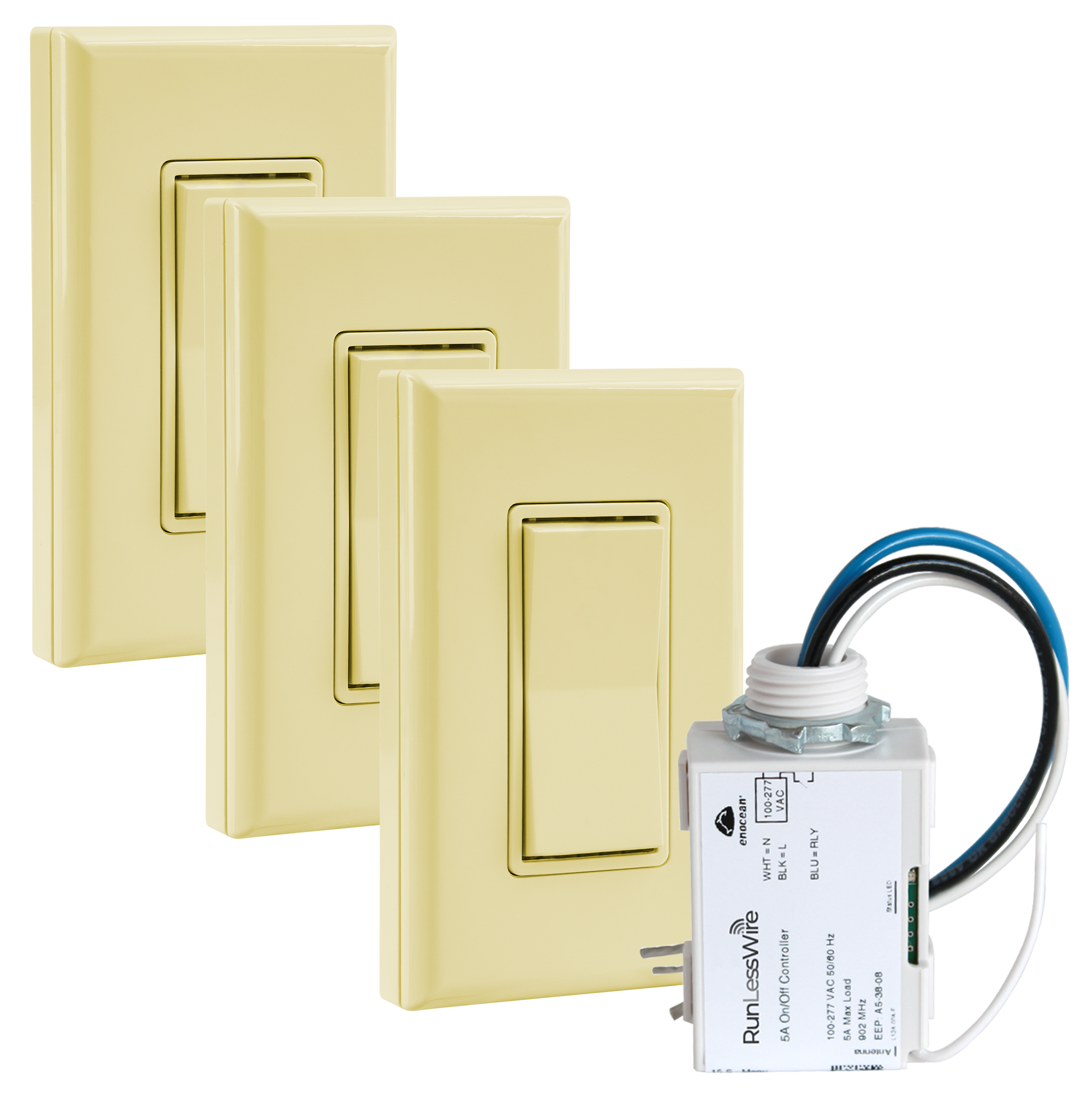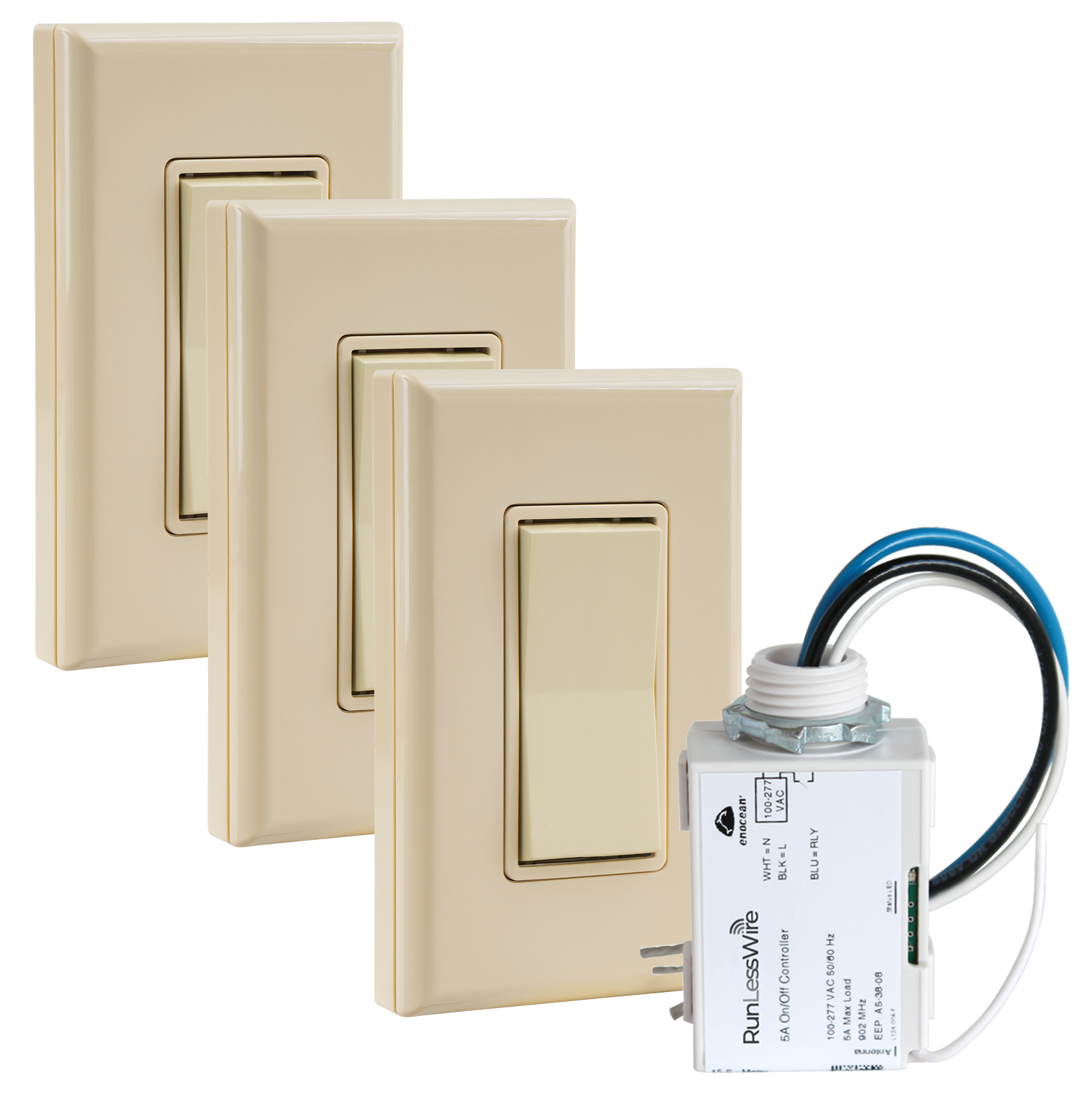 4-WAY KIT: 1 RECEIVER, 3 SWITCHES
4-WAY SWITCH KIT: This kit is for controlling 1 light source with 3 single rocker switches. The receiver (controller) is pre-connected to the 3 switches and is perfect for a bigger space where you might want 3 switches at different spots in the room or 2 switches on walls and 1 used as a remote. If adding additional switches, then remove all original wired switches and replace them with wireless switches at each switch location to control the same receiver.
Additional Information
Each kit comes with everything you need. The receivers and switches are pre-connected for each kit. Also includes mounting screws, wire nuts, and command strips.
If you are not 100% satisfied with your purchase, you can return the product and get a full refund or exchange the product for another one, be it similar or not. You can return a product for up to 30 days from the date you purchased it. Any product you return must be in the same condition you received it and in the original packaging.
This product is warranted against defects in materials and manufacturing under normal use in accordance with instructions and specifications published by RunLessWire, for a period of five (5) years from the date of purchase by the End User. In the event of a product failure due to materials or workmanship, RunLessWire will repair or replace the defective product. For warranty service, contact RunLessWire for a Return Authorization and return the defective product, shipping prepaid, for prompt repair or replacement.
RunLessWire ships Monday through Friday excluding holidays. The shipping cut-off time is 2pm MST. Orders placed after 2pm MST will be processed the next business day. Shipping is via USPS First class or Priority mail depending on the quantity. Typical delivery times are 3-5 business days from date of order. Shipping price and delivery time will vary on international orders.
E9T-S1Axx
Range — 50-150 feet (typical)
Frequency — 902 MHz EnOcean® Protocol
Power Supply — Self-generated when switch is pressed
Buttons — 2 Buttons (1 rocker)
Output Channels — Only limited by number of receivers in range
Dimensions — 2.75(W) x 4.5(H) x 0.62(D) inches
Operating Temperature — -13° to +149°F (- 25° to + 65°C)
Radio Certifications — FCC (United States): SZV-PTM200C 210C or 210U I.C. (Canada): 5713A-PTM200C 210C or 210U *868 Not FCC Approved
Addressing — Factory set unique ID (1 of 4 billion)
Supply Voltage — 100-277 VAC 50/60 Hz
Max Load — 5A all loads, Induction, Fluorescent, LED, Other ; 70A Max Inrush Current ; 1/4HP
RF Communication — 902 MHz EnOcean® Protocol
Transmission Range — 50-150 feet (typical)
Dimensions — 2.61 x 1.73 x 1.09 inches ; (66 x 44 x 28mm)
Operating Temperature — +32º to +122ºF ; (0 to +50ºC)
Storage Temperature — -4° to +176°F ; (-20° to +80°C)
Approvals — UL 60730 (safety) UL 2043 (plenum)
CSA c22.2#14-05 (safety) CE – IEC 60730
FCC ID: SZV-STM300U
IC ID: 5713A-STM300U
TECHNICAL DETAILS
Indoors Only: Switches and receiver are not weatherproof and should be used indoors; a receiver or switch installed on an outdoor light will need protection from the elements.
Pre-linked: Switches and receiver are shipped to you already linked together for a quicker installation. 
Range: The range of switch is 50-150 feet from the receiver, depending on walls and barriers. Test desired distances before completing installation.
Interference: Multiple units may be used in the same home without interference. Unique radio frequency won't interfere with other devices.
Power Supply: Receiver requires AC input. Switches are self-powered and require no power supply.
Easy Install: Our small receiver is simply wired between the power and the fixture, and then stored in the light box behind, or at the fixture location. Mount the switch anywhere with industrial tape or screws.  Also used to replace outdated, undesired current switches.
Installation & Tutorials
Will 2 kits work in the same area without interference/crosstalk?

Yes, each unit is assigned a unique digital ID and communicates only with other units specifically associated through a linking process.
How many switches can link to one controller?

25 switches can be linked to one controller.
How many controllers can respond to one switch?

The only limit is the wireless range. Multiple controllers may be linked to each switch.
Does it work with a 3-way switch?

A 3-way switch kit includes 2 wireless switches to which replace any existing wired switches. The controller replaces existing switches and does not work with them.
What is communication distance (range)?

Typically between 50 and 150 ft. Range. The equipment nearly always works reliably within a 50' radius and can work at longer distances.

Range is affected by:
Proximity to metal – keep away from metal to increase distance, use plastic boxes instead of metal where possible
Obstructions – Wireless signal transmits through most materials at least some distance. Materials in order of range reduction, minimum to maximum: glass, sheetrock, wood, aluminum siding, sheet metal, stucco (w/ wire mesh), brick, concrete
Interference – Some 900MHz wireless microphone systems are known to reduce the reliability of the wireless switches. There are no other known sources of interference.
What is the typical life expectancy of the sensors and relay?

The products use no batteries and include an integrated magnetic generator. They are designed with a 20+ year intended lifespan. They have a 5 year warranty.
How do I link another switch to an existing controller?

Confirm the controller has power and the Status LED is Green (Output ON) or Red (Output OFF). Hold the MENU button until a click is heard – about 5 seconds. Buttons may be hidden under a sticker.
Click the top button of the switch 3 times. The status LED will pause GREEN for 3 seconds indicating that the switch ID has been added to the controller's memory. If status LED pauses RED, the switch has been removed from memory; click the switch 3 more times to add it back.
Wait 30 seconds until clicking / blinking stops. Operate switch.
Does the wireless signal interfere with other wireless networks such as WiFi, home security, cellular or other wireless devices so that it does not function properly?

RunLessWire switches and controllers communicate using the 902MHz frequency. It will not interfere with Wifi (2.4GHz or 5.8GHz) or most other wireless devices.
Each unit is assigned a unique digital ID (one of 4 billion) and there cannot be cross talk, even though they transmit on the same frequency.
How do you measure Available Watts?

Watts = Amps x Voltage. So, for example, with the 5 amp RLW controller: 5A x 120V = 600 Available Watts
How can I contact Customer Support?

Email: support@RunLessWire.com

Phone: 866.600.2111

9am-5pm MST, M-F
The controller does not respond to the wireless switch:

1. Confirm the controller is wired correctly and functional:

-The status light on the controller should be illuminated. Green means the output should be ON, Red means the output should be OFF. No status light indicates that power is not on, wiring is incorrect, or Controller has been damaged.

-Press the "Select" or "Test" button to toggle the controller output. Subsequent presses will cycle between ON and OFF. If the status light changes color and the light doesn't respond there may be a wiring problem. If the relay doesn't click, the relay may be damaged from an overload condition.

2. Confirm the switch is functional:

-Click the switch and confirm that the controller status light flickers. Each time the switch transmits, whether it is linked or not, the status light should flicker briefly. If it does not flicker, either the switch isn't transmitting or the controller isn't receiving.

-Link the switch to the controller. Hold the "Menu" button for about 5 seconds until the controller clicks, then release. While the controller is clicking, press one button on the switch 3 times. The controller status light will pause GREEN when the switch is added to the controller memory. The status light will pause RED when the switch is removed from the memory. If this happened, click the switch 3 more times to add it to the memory. If clicking the switch doesn't not link, the switch may be damaged. If a second switch is available and works, then the first switch can be confirmed defective. If not, contact RunLessWire for support and warranty service if applicable.
This product is rated 4.5 of 5.0 stars.
It has received 2 reviews.
4-Way Switch product is great.
It was almost too easy to install the 4-way switch kit versus the old-school hard wiring the switches etc. One issue I encountered was with the wireless switch cover plates. I chose to install old-work electrical boxes in my walls for the three wireless switches so that the switch face plates would match all my other wall switches and be flush with the wall. I purchased cheapy old-work electrical boxes from Home Depot and installed the wireless switches in the boxes. When I attempted to install the wireless switch plates, the prongs on the backside of the plates were hitting the frame of the cheapy old-work box so they could not be attached. To remedy this issue, I cut away part of the old-work box so the face plates could then be installed.
Best Wireless Replacement Switch
I've installed a few wireless switches and these are the best. They are also the most expensive. One point to note you need a hot, neutral and ground at the switch. They have a relay that does the switching. That means you can switch any type of bulb, so long as you don't exceed the switch rating. Cheaper switches are finicky and can cause interference with communications equipment and wireless devices.